Happy Birthday Firefox 3 – by Internet Explorer Team [Picture]
Folks in Internet Explorer team were kind enough to bake a treat for Mozilla Firefox 3 release today. A cake which contains a huge IE logo was sent to Mozilla headquarters in Mountain View.
Apparently Microsoft's Internet Explorer team is feeling "happy" too for new Firefox. The cake congratulates Mozilla on shipping Firefox 3. The disgusting sweetest part is the complimentary of the cake – "Love", the IE Team.
This is the second time for IE team to give a cake during Firefox's release. The picture below was the cake sent by IE team in year 2006 for Firefox 2.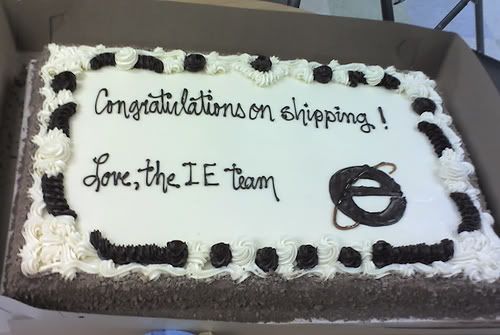 Maybe Nokia, Samsung or LG will give a cake to Apple too when iPhone 3G's first launch in July. Who knows?
Picture source: ars technica
LIKE It & Leave A Comments